The three wise men's quest to find the star of Bethlehem is the visual theme for this downloadable art bundle. All your Christmas communications and events will look professional, appealing, and unified because the different pieces employ variations of the same basic art design. Because this design is timeless, it is suitable for many types of holiday seasonal events including Christmas Eve and other special Christmas –themed services.
With any of these Christmas printables, you are free to print as many copies of any of the designs that you need. Or, use these designs over and over during this holiday season or next. For example, because each family uses one envelope but has multiple children, you may wish to print twice as many Christmas activities coloring sheets as envelopes. Print as much as you want without having to pay for additional licenses or royalties.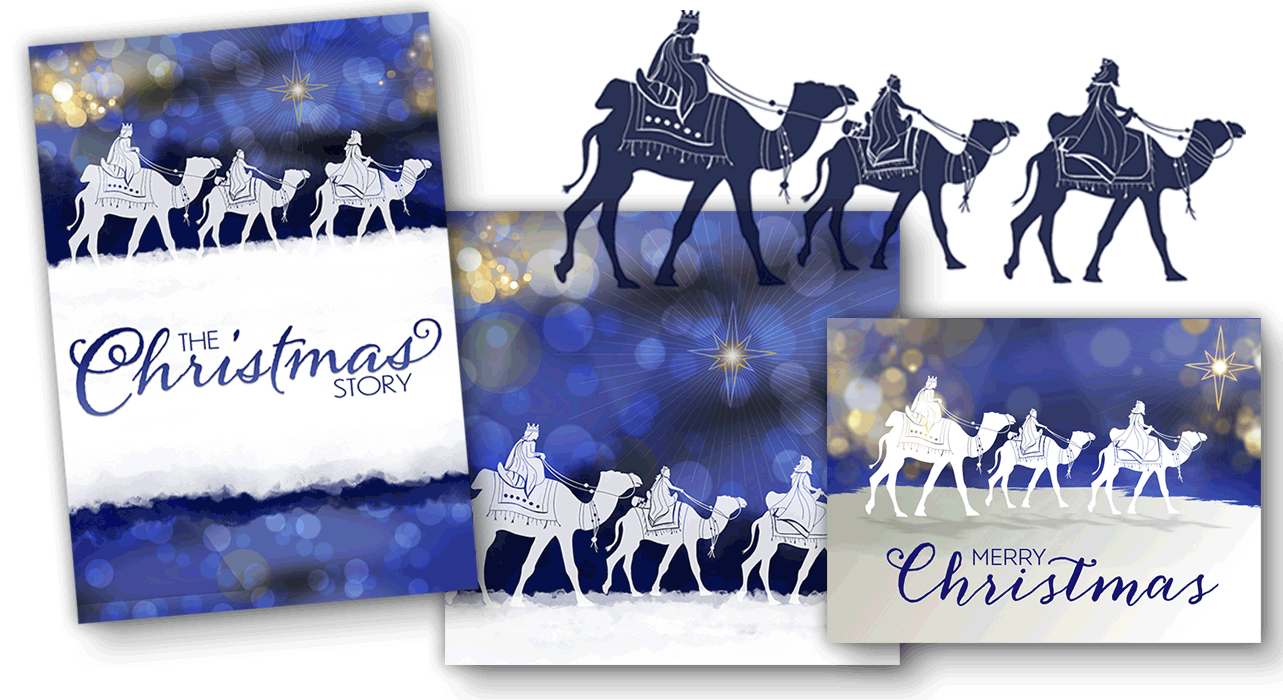 What is included in this Christmas bundle?
All the layouts included in the Christmas program downloadable bundle are printable and easy to use. Simply open one of the templates using Microsoft Publisher or Word, add your church's specific information — church name, dates and times, location, etc. — and then save. The fonts, sizes and colors have already been formatted for you, but you can easily change them to suit your needs. You can even add your church logo if you would like.
8 themed designs to give your Christmas publications a cohesive and professional look. In the full-set, downloadable bundle ZIP folder, you will receive
Bulletin cover template
Flyer template
Postcard template—use as invitations for special Christmas services and programs.
Offering envelope template
Coloring page for kids—perfect to include in Christmas cards to your church family or distribute during special services to keep young children engaged during services.
Coloring page for adults—can provide much-needed Christmas activities for isolated or homebound church members to send or personally deliver in care packages to these special segments of your congregation.
Website image
Facebook/social media image
The artwork specifications for each template are:
Bulletin template design — 5½" x 6½" to fit front of standard-size folded bulletin (DOC, DOCX and PUB), BW and color
Flyer template design — 8½" x 11" (DOC, DOCX and PUB), color
Postcard template — 4 cards that fit on 8.5"x11" (DOC, DOCX and PUB), color
Offering envelope template — (DOC, DOCX and PUB), BW and color
Coloring page for kids — 8½" x 11", BW only
Coloring page for adults — 8½" x 11", BW only
Website image — long and narrow, JPG and PNG, color
Facebook / Social media image — 4" x 4", JPG and PNG, color - 2 images for your website or Facebook/social media page
Technical Information
Download file is a ZIP file* containing DOC, DOCX, PUB, PDF, JPG and PNG files and is

23.8 MB.

Compatible with most Windows PC and Macintosh computers.
Bulletin, flyer, postcard, and envelope layouts are provided in Microsoft Word and Publisher formats for easy editing.
Coloring sheets are provided in .pdf format.
Compatible with Microsoft Word 97-2003 or higher.
*If you're not familiar with ZIP files, a fast Google or YouTube search will walk you through the process of opening one.
Don't need the entire full-set Christmas bundle?
Each layout is also sold separately, allowing you to pick and select only the pieces you require:
Bulletin cover template — only $1.99
Flyer template — only $4.99
Postcard template — only $4.99
Offering envelope template — only 4.99
2 reproducible coloring pages — only $4.99
Separate products are downloadable as individual ZIP files.